Solar domes simulate extreme future
climate scenarios
Gamboa Laboratories, Panama
How will tropical forests respond to a warmer climate with higher atmospheric carbon dioxide concentrations? By growing plants in geodesic domes, Smithsonian scientist Klaus Winter is seeking answers.
How does tropical vegetation cope with climate change? How extreme does climate change need to get before tropical vegetation is severely harmed?
To answer these questions, Smithsonian scientist Klaus Winter grows a mixture of tropical trees, shrubs, vines and herbs in geodesic domes located at the Smithsonian Tropical Research Institute's Gamboa Outdoor Laboratories. Inside the domes, these plants are exposed to elevated temperatures — up to 6 degrees Celsius above normal — and carbon dioxide concentrations that are as much as 2.5 times higher than current levels.
The elevated carbon dioxide concentrations are within the range of those predicted within the next century, if the current trajectory of rising CO₂ emissions continues. The results will tell Winter what the tropics can expect when, or if, these changes occur. Follow-up studies will include experimental manipulations that include drought treatments and less-extreme temperature and CO₂ treatments.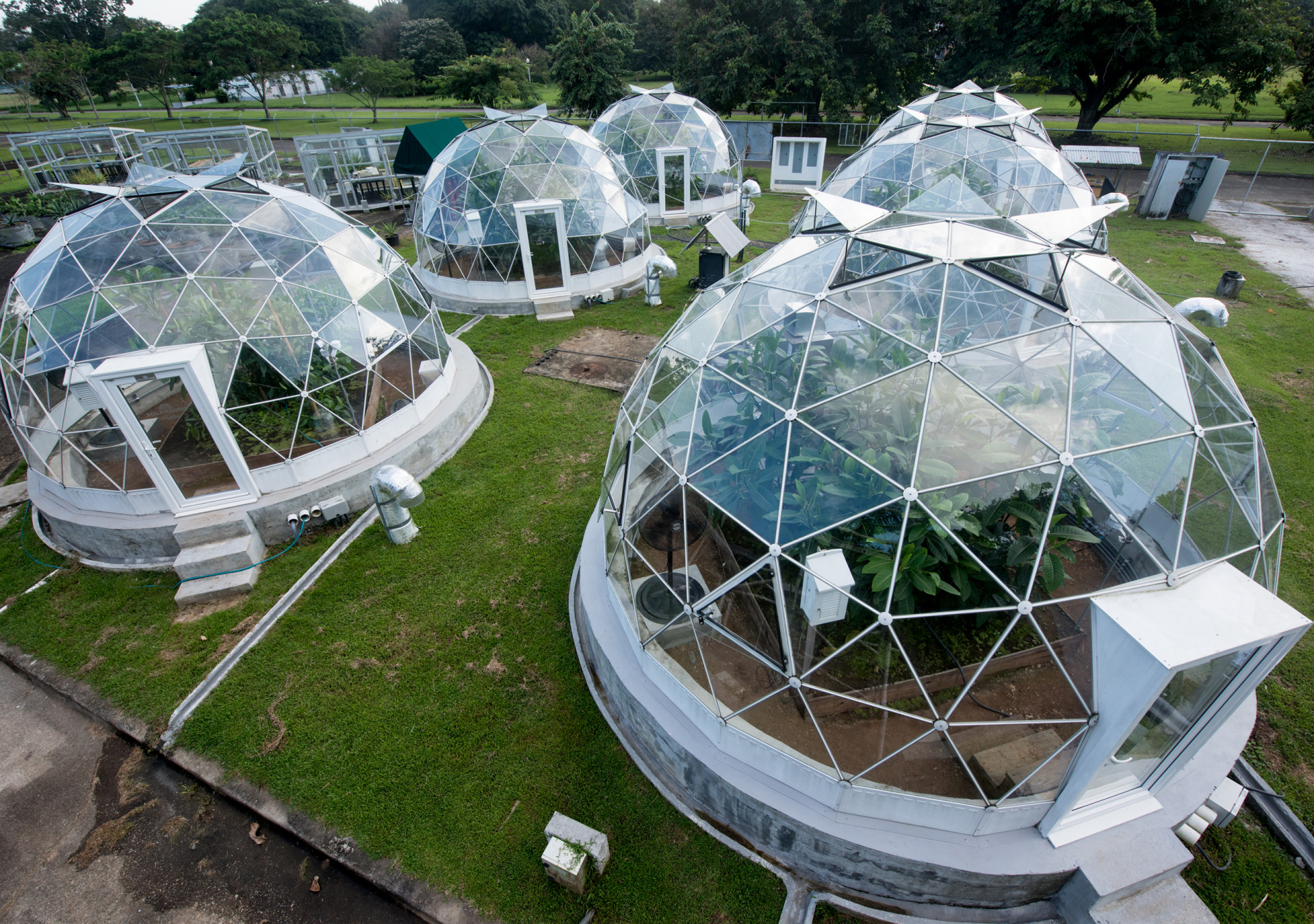 STRI's geodesic domes enclose Ficus insipida fig saplings growing under various temperatures and atmospheric carbon dioxide levels in Gamboa, Panama in December 2015. Photo: Sean Mattson/Smithsonian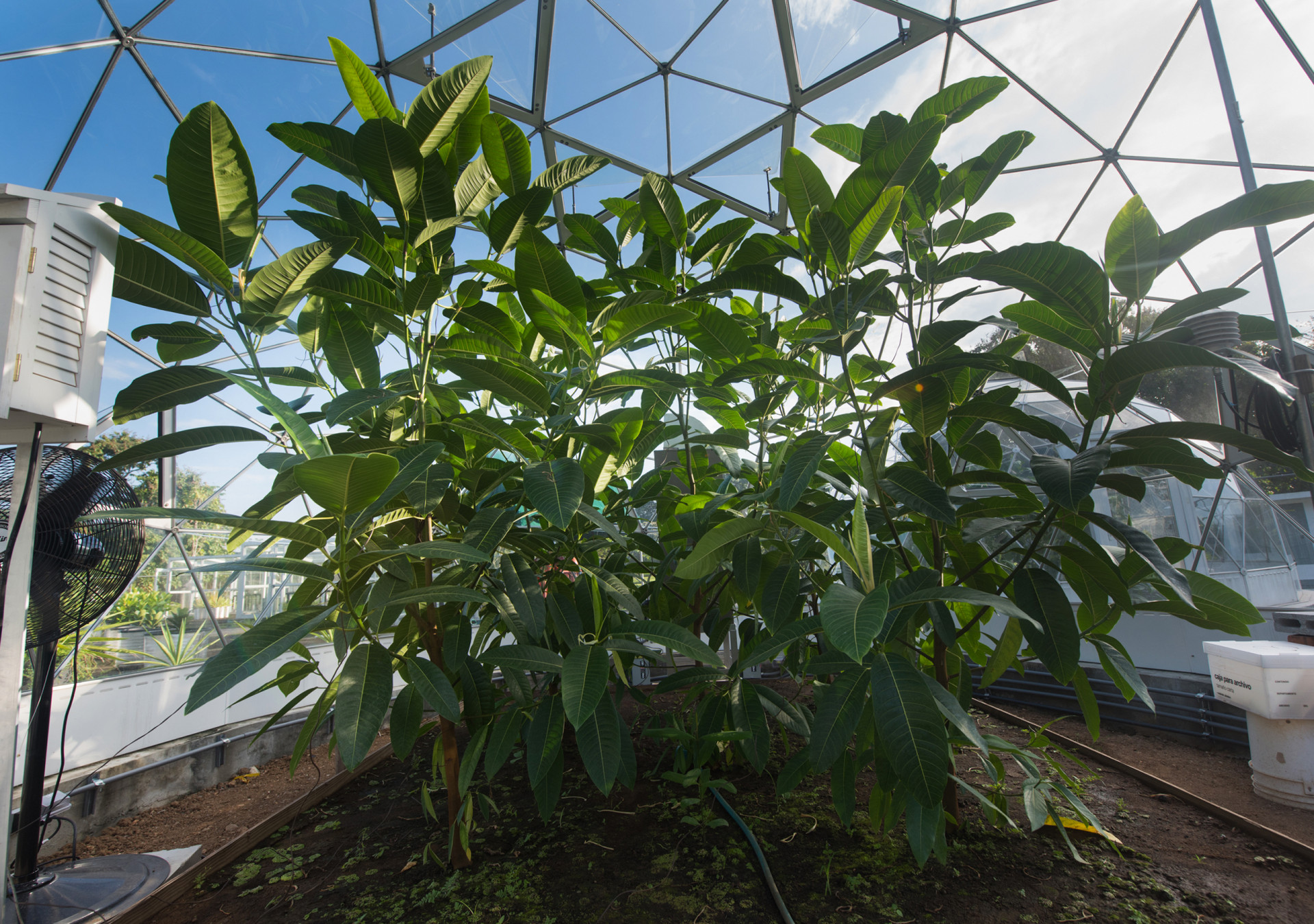 Ficus insipida fig saplings growing in one of STRI's geodesic domes in Gamboa, Panama in December 2015. Photo: Sean Mattson/Smithsonian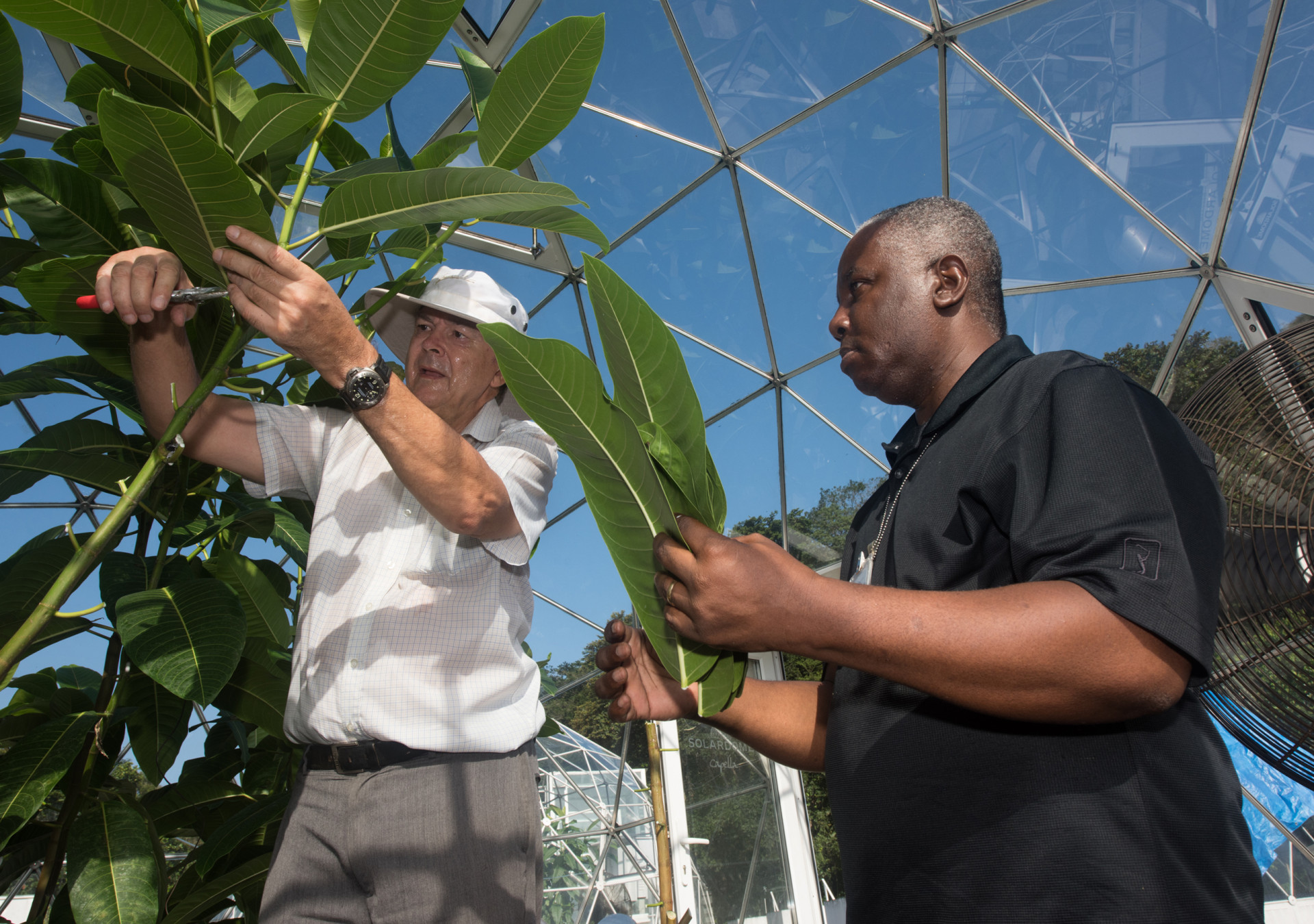 Klaus Winter and Aurelio Virgo harvest Ficus insipida leaves at the Tropical Domes project in Gamboa, Panama in December 2015. Photo: Sean Mattson/Smithsonian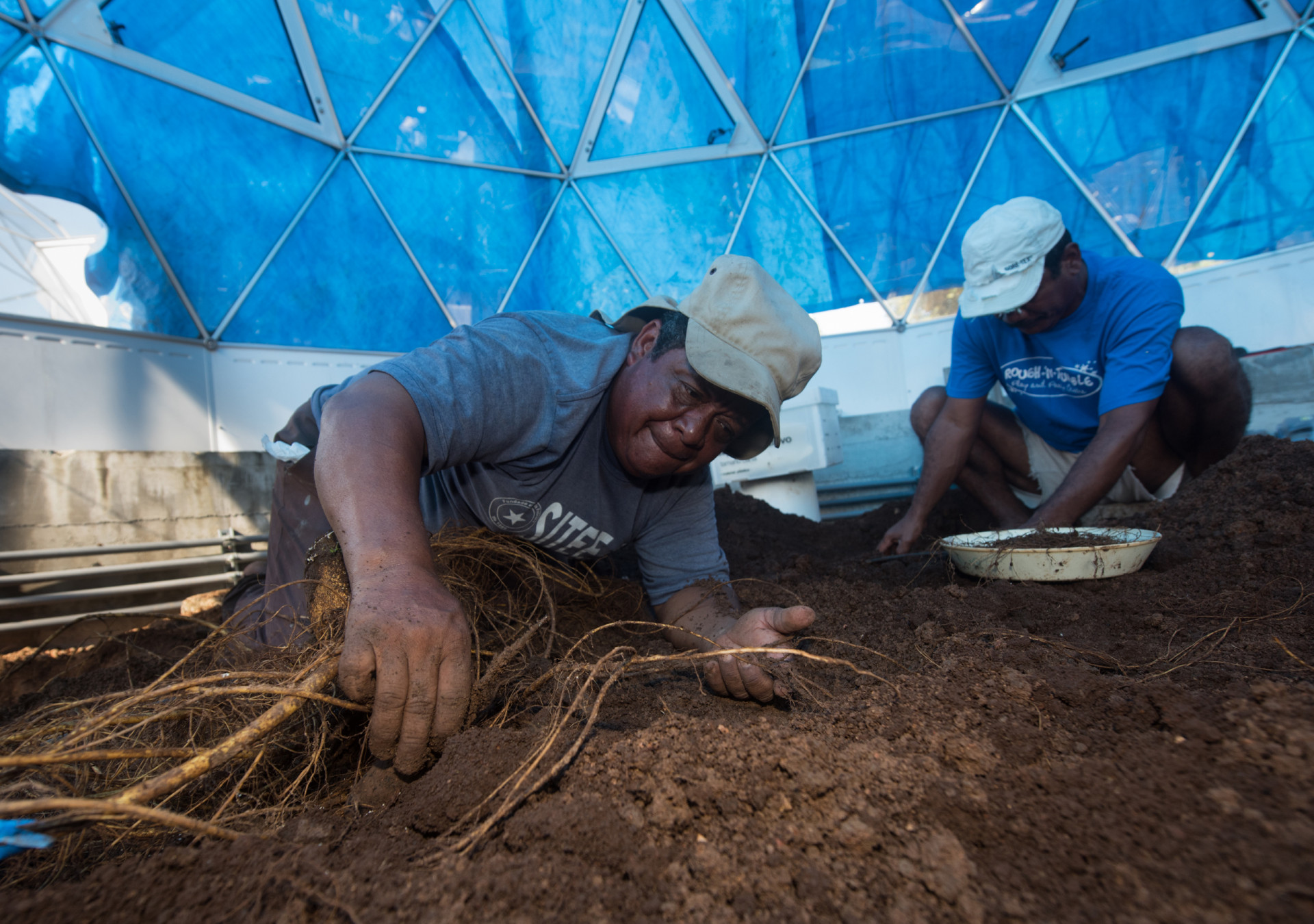 José Salas excavates roots for below-ground biomass determination at the Tropical Domes Project in Gamboa, Panama in December 2015. Photo: Sean Mattson / Smithsonian.
"The outcome of these replicated mesocosm experiments could have huge implications for our ability to predict if and when climate change might reach a tipping point for tropical plants," Winter says.
The health of the tropical plant communities housed in the domes is studied from the seedling stage until the leaf canopy is several meters tall.
The research results will enlighten our understanding of the susceptibility of tropical plants to climate change and environmental stress, thereby providing a basis for decision makers to plan for the future.
The experiments highlight the enormous potential of biodome enclosures as tools to study responses of tall vegetation to atmospheric and climate change. In addition, the dome facilities fulfill a vital educational function, providing an opportunity for visitors to learn about tropical plants and climate change.
Klaus Winter is a plant physiologist and leads the Solar Dome Project at STRI. He obtained his doctoral degree from the University of Darmstadt, Germany. Following field research in the Negev desert, Israel, postdoctoral appointments at the Australian National University, Canberra, and the University of Wisconsin, Madison, and appointments as Heisenberg Fellow and Professor of Botany at the University of Würzburg, he joined the STRI scientific staff in 1991. He studies the biochemical-physiological foundations of plant responses to environmental stress and to atmospheric and climate change. He began his research career, while still a student, by discovering that certain plants can reversibly switch from one photosynthetic pathway to another in response to salinity- and drought stress (from C₃ photosynthesis to CAM photosynthesis), a topic he is still devoted to with undiminished fascination. He has published close to 250 research articles in peer-reviewed journals.