Please take a careful look at the following resources, offered to help us create a safe community of inquiry for all. These include information about reporting harassment, our community's code of conduct and a set of links to related, outside resources.
Measuring Organizational Culture and Climate
During the summer and fall of 2021, the Smithsonian Tropical Research Institute (STRI), with support from Smithsonian Civil Program (SI Civil), worked with the Smithsonian Organization and Audience Research (SOAR) team to conduct a survey about the cultural climate at STRI.
The survey was the first cultural climate survey conducted at STRI, and we thank the nearly 800 community members who responded. Data from this survey will be used as a benchmark to measure success and improvements going forward.
You can read the executive summary and full report here:
STRI Cultural climate survey full report 2021 | STRI climate survey executive summary
Let's create a safe environment
Brochure
Digital | Print | Grayscale
Flyer
Digital | Print| Grayscale
Poster
Digital| Print | Grayscale
Flowchart
Digital | Print | Grayscale
Smithsonian Work Policies
Failure to comply with SI and STRI policies and local laws might be a cause for termination of employment with STRI, termination of your project and/or official relationship with STRI, and the cessation of collaboration with STRI
All STRI operations and initiatives are required to be conducted with the utmost concern for the safety and security of individuals, the upkeep of infrastructure and equipment and the preservation of the environment. Therefore, it is required of all STRI employees, research collaborators, students, invitees and subcontractors to comply with the policy requirements of SD 419 -Smithsonian Institution Safety and Health Program
SI Civil: Report an Incident
If you see it, feel it, or hear it, we want you to…Voice It
https://www.si.edu/sicivil
Any Smithsonian employee or affiliated person may contact SI Civil for more information or to report an incident of harassment or workplace-violence* related behavior at any time. There are multiple ways to report incidents through the SI Civil reporting process.
How to Report
You can report an incident to SI Civil using one of the methods below.
Call the Hotline
Call the Voice it hotline 24 hours day, 7 days a week. You will be connected to a live operator who will take your report and submit directly to SI Civil. You may also submit reports through the hotline anonymously.
​Hotline Numbers:
1-866-995-6445 (U.S.)
800-0329 (Panama)
También disponible en español.
Report Online
Voice It is a user-friendly method to report incidents of harassment or other concerning behaviors in the workplace. Visit the Voice it website to submit your report on a secure website. You may also submit reports anonymously.
smithsonian.gan-compliance.com/p/Case
También disponible en español.
Speak to SI Civil
You may also submit a report directly to SI Civil staff or contact us with any questions.
Please email to setup a time to speak with us either in person, over the phone, or Zoom/Teams:
sicivil@si.edu
Additionally, you may contact the SI Civil Branch Manager:
Amanda Jones
jonesam@si.edu
202-633-6379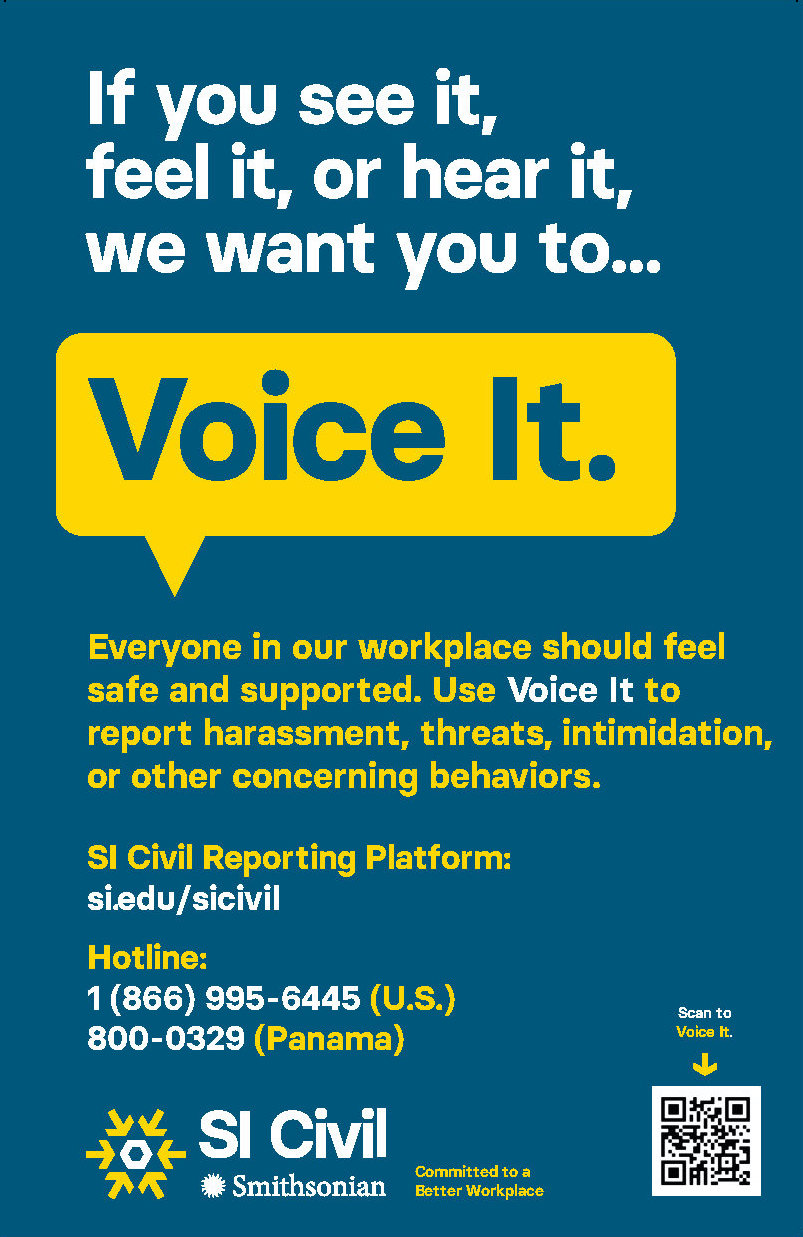 Any Smithsonian/STRI Supervisor
STRI is committed to maintaining a work environment that is free from any form of harassment. All Smithsonian supervisors are obligated to report harassment that they witness or that is reported to them. Retaliation against individuals who report inappropriate behavior is prohibited by Smithsonian policies.
*Note that reporting to STRI HR, SI Civil, or a supervisor is confidential to the greatest extent possible. Please see the SI Civil Handbook for further information regarding confidentiality. Completely confidential resources may be found below.
How to speak to a confidential resource:
If you are not sure about filing a report or would like to discuss your options or specific situation with an office that operates under principles of confidentiality, you may contact the Smithsonian Ombuds (Shadella Davis – (+001) 202-633-2008 / davissm@si.edu) or the Employee Assistance Program (Tim Holloman, Manager - hollomant@si.edu). The Employee Assistance Program is also available in multiple languages through Inova. More information about this may be found below:
Inova Employee Assistance Program Contact Information
This resource is available to STRI employees and STRI-affiliated individuals (fellows, research associates, post-docs, interns, etc.).
Inova EAP Website www.inova.org/eap
Click on "Member Log-in" - Username is Smithsonian, and password is EAP
Select preferred language
Click the LiveConnect chat button (if a Spanish-speaking counselor is needed they can request one)
Inova EAP Phone 1-800-346-0110 (can also call free through computer using Skype, if a Spanish-speaking counselor is needed they can request one)
Some useful publications: