Former Smithsonian fellow
wins an Emmy award
At STRI, Jim Porter began the long-term ecological research that later became an important component of the winning documentary, Chasing Coral
When Jim Porter began his pre-doctoral fellowship at the Smithsonian Tropical Research Institute in Panama, in the early '70s, he could not have imagined his experience would one day lead to an Emmy award.
His film, Chasing Coral, to which he contributed as Chief Scientific Advisor and Principal Cast Member, not only won an Emmy for Outstanding Nature Documentary in 2018, but was also conferred a 2017 Audience Choice Award at the Sundance Film Festival, a 2017 Peabody Award, and was recognized as Best Documentary Film at the 2018 Satellite Film Awards.
At the 2018 Annual News and Documentary Awards Ceremony at Lincoln Center in New York, Chasing Coral received an Emmy for Best Nature Documentary and Dr. James W. Porter for his role as Chief Scientific Advisor and Principal Cast Member. Photo by Marc Bryan-Brown, Getty Images.
Porter, now the Josiah Meigs Distinguished Professor of Ecology, Emeritus at the University of Georgia, contributed his expertise on the effects of climate change on coral reefs, particularly on an occurrence known as coral bleaching.
This phenomenon, in which corals lose their color and become white, has been observed in oceans facing as little as a two-degree temperature rise. Warming seas cause corals to expel the microalgae that live within them; in turn, losing one of their main sources of nutrients. In the long-run, this is a major cause for coral death and coral reef decline.
If this trend continues, scientists predict that up to 90 percent of coral reefs will vanish over the coming decades. Given that they serve as an important nursery for tropical marine life, the disappearance of this ecosystem would be a devastating shock for most organisms under or above water. In Chasing Coral, viewers are exposed first-hand to this ongoing marine catastrophe, through the eyes of a team of divers, photographers and scientists, and the footage of underwater time-lapse cameras invented specifically for the project. The film also features a series of Porter's photos that show "before" and "after" states of coral reefs.
"There is a direct line between the research I did in Panama starting in 1969 and the film I helped make 48 years later," Porter says. "At STRI, I embarked on the long-term ecological research that became the hallmark of my career, and subsequently the backbone of this film."
Dr. James W. Porter helped make the award-winning documentary, Chasing Coral, as Chief Scientific Advisor and Principal Cast Member. In this scene from the film, he discusses his long-term underwater photographic monitoring program which was a motivator for the film.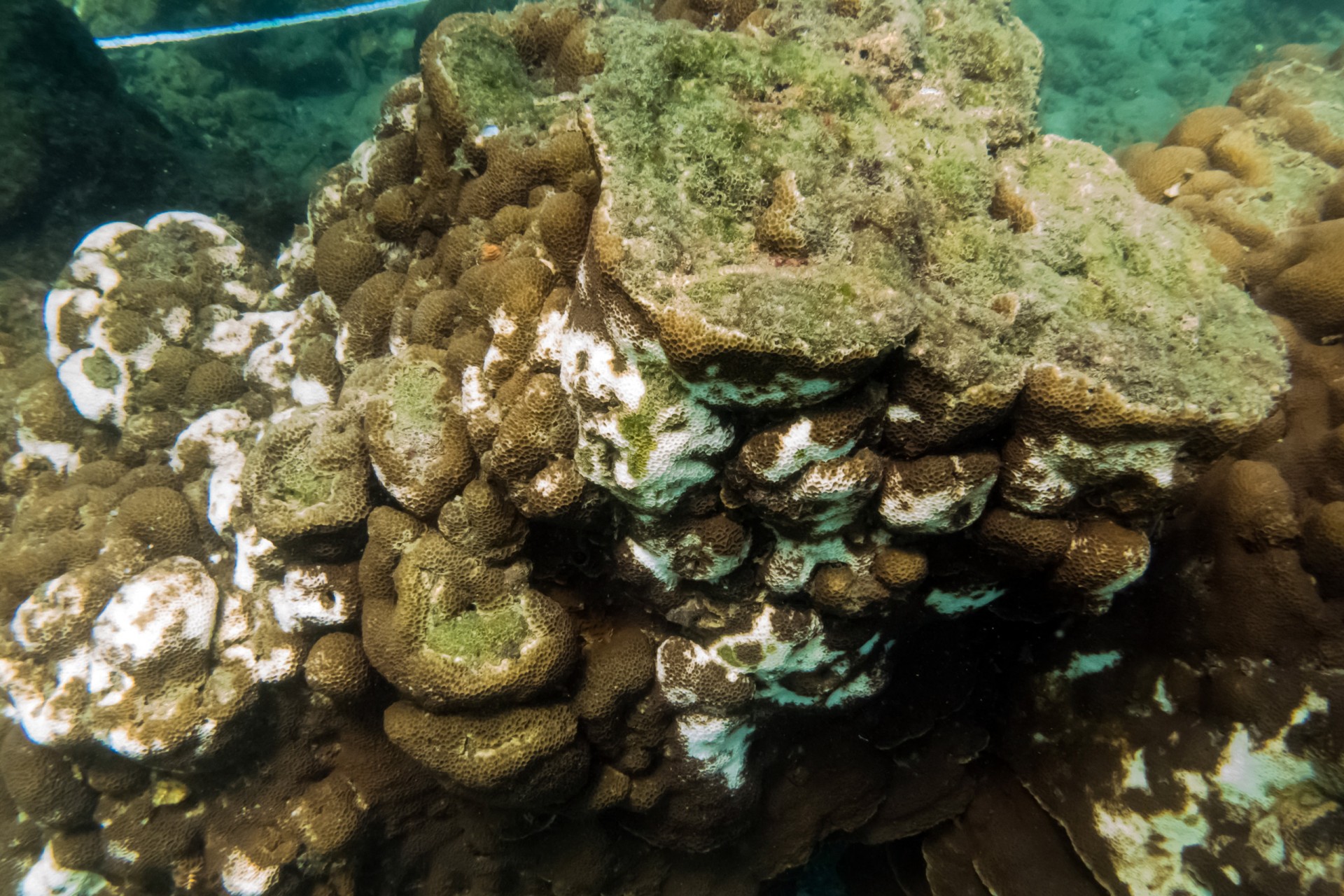 A massive Gardineroseris planulata coral, starting to show signs of bleaching near Contadora Island in the Gulf of Panama. Photo by Sean Mattson.
Throughout his professional career, Porter also focused on teaching students and educating the public, constantly finding ways to make research results relevant for those outside the scientific community. He testified before Congress four times about the effects of climate change on coral reefs. With this background, it was easy for him to convey hard science through narrative storytelling for the film.
"My teaching, research, and public lecturing is focused on combating climate change," Porter says. "Chasing Coral documents these threats. This film is the way I am making my contribution to this fight." 
The success of Chasing Coral is not limited to its multiple awards. Less than two years since its release, it has been translated into more than 50 languages and has been screened in over 100 countries.  It was also purchased by Netflix, where it has had more than 250,000 views. In addition, the film team launched an impact campaign to ensure the loss of coral reefs is not overlooked and to support communities in using the film to incubate local solutions for their conservation. For more information about Chasing Coral, or ways to help, visit www.chasingcoral.com