STRI's newest
official facility
Generous donation allows STRI to
establish a living laboratory
in the Tropical Eastern Pacific
Coibita Island
William Wcislo
Senior Scientist & Deputy Director for Research
Coibita Island, part of a World Heritage Site in Panama's Pacific, is poised to become a leading research site for tropical marine biology.
Nearly 20 years ago, we received an extraordinary bequest from the estate of Manoucher Mohageri Bacheri, an Iranian pilot and nature enthusiast who lived in Panama. He entrusted Coibita Island to the Smithsonian Tropical Research Institute with the hope of contributing to the conservation of the spectacularly diverse biological and cultural environments of the Tropical Eastern Pacific. Following years of legal wrangling, competing court claims were recently resolved by the Supreme Court of the Republic of Panama. We anticipate STRI ownership of Coibita will appear in Panama's Public Registry in 2018.
This historic ruling represents a major step toward our dream of offering research stations to scientists from Panama and abroad who wish to study Panama's three distinct ocean environments — the Gulf of Panama, the Caribbean and now, the Gulf of Chiriquí, where the island is located in Coiba National Park.
The ruling's significance for science is not unlike the 1923 decision by Governor William Morrow to establish Barro Colorado Island as a reserve for scientific studies in the lowland tropics at the heart of the Panama Canal. Almost a century later, BCI is a world-renowned research destination and the epicenter for some of the greatest advances in our understanding of tropical ecosystems. Research on BCI is centered on one physical place, while Coibita is tiny island in a vast ocean extending for thousands of kilometers.
The Coiba archipelago in the Gulf of Chiriquí consists of more than 38 islands, half of which are unnamed. It connects with Costa Rica's Cocos Island, the Ecuador's Galapagos and Colombia's Malpelo Island, at the Mesoamerican heart of a marine corridor linking northern and southern polar regions. It is a region of stunning beauty and biodiversity. Coiba is the largest near-shore island in the Tropical Eastern Pacific, and Coibita is the third largest island in the archipelago at 242 hectares.
Prior to the court decision, our time horizon was annual. STRI security and facility staff faithfully sustained our presence there for more than 20 years maintaining basic facilities, making modest improvements and providing support for some basic research.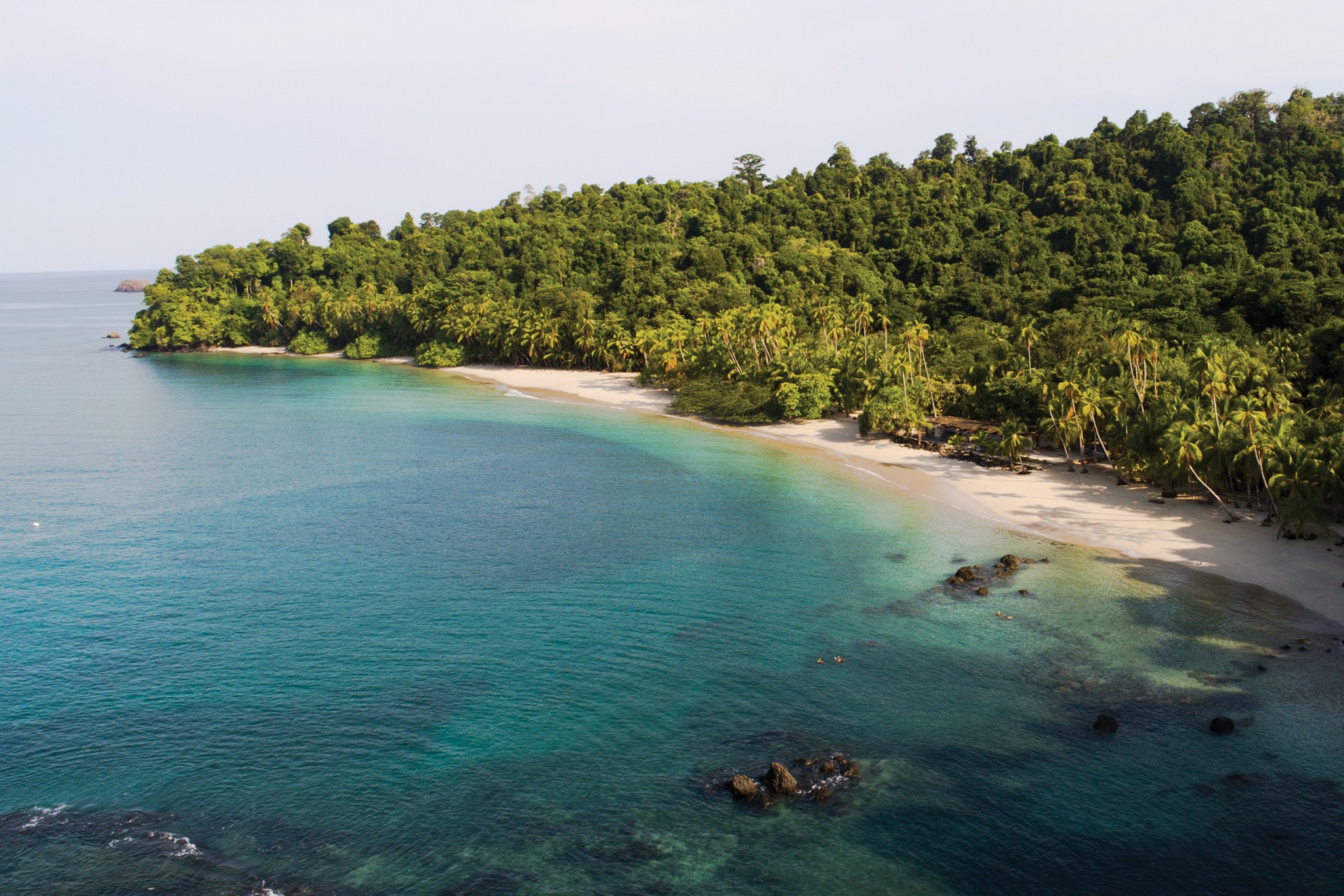 The beach at Coibita Island. Photo by Milton García Gómez.
Matthieu Leray peeks into a coral colony with a flashlight while diving in Coiba National Park as part of a field expedition in October 2017. Photo by Sean Mattson.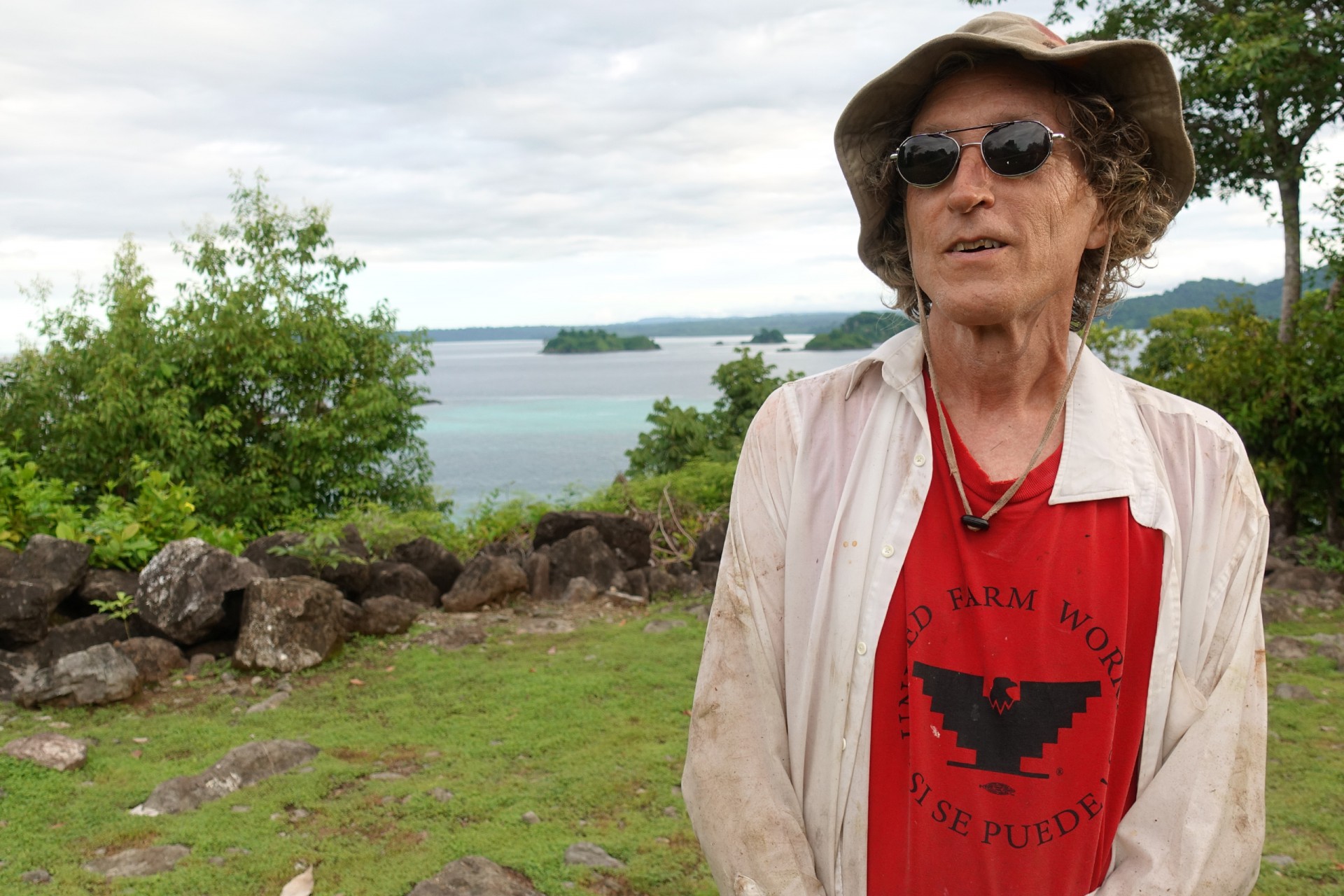 STRI staff scientist and deputy director Bill Wcislo visits Coibita Island for research in May 2018. Photo by Ana Endara.
Now our horizon is decadal and beyond. STRI scientists will continue the laborious process of documenting the diversity of this region, implementing long-term monitoring studies, and establishing the necessary minimalist infrastructure to begin a new century of research. Research at our facility will complement work done at facilities being established on Coiba by Panama's Secretaría Nacional de Ciencia y Tecnología e Inovación (SENACYT).
For years, STRI scientists Peter Glynn, Luis D'Croz, Héctor Guzmán and others used research vessels such as STRI's R.V. Urracá to explore the Coiba archipelago, with some 600 scientific publications to date, including basic botanical studies by Alicia Ibáñez and other members of the International Cooperative Biodiversity Group. These studies are the tip of the iceberg hinting at the absolutely breathtaking beauty and diversity of the broader Tropical Eastern Pacific.
Over the next five years, STRI scientists will begin systematic studies of the natural history of this extraordinary region, making use of technical advances to study processes of adaptation and accommodation at multiple levels, from genomics to physiology, behavior, ecology and evolution, to better understand how organisms respond to changing environments, and which characteristics make them more or less resilient to change.
Coastal shores and islands in the TEP continue to be heavily modified by humans dating back to the earliest records of humans in Panama, according to STRI archeologist Richard Cooke. Understanding the history of interactions between humans and their environment will provide insight for future change and help decision makers understand the potential consequences and provide options for sustainable alternatives. Developing enhanced research capabilities in the TEP is key to STRI's marine program, and justifies the long overdue replacement of our research vessel.
It is a wonderful opportunity for STRI, for science and for Panama. We hope the entire STRI community will enthusiastically help us to develop this wonderful gift.