100 Years of Tropical Biology at the Smithsonian's Barro Colorado Island Research Station in Panama
The Smithsonian Tropical Research Institute will celebrate 100 years of tropical forest research at Barro Colorado Island Field Station in Panama with exhibits and events.
On April 17, 1923, Panama's Barro Colorado Island was declared a tropical forest reserve for scientific study, and on March 29, 1924, the new research station was inaugurated. One hundred years later, Barro Colorado Island is the most intensively studied tropical forest in the world.
To begin a year of birthday festivities, the Smithsonian Tropical Research Institute sends heartfelt thanks to the government of Panama, its people, and everyone who has contributed to Barro Colorado Island—especially all employees—for a century of goodwill and the hard work needed to create and maintain this unique example of international science diplomacy.
Image c. 1923 of the first laboratory buildings at the research station on Barro Colorado Island, originally known as the Canal Zone Biological Area. Credit: Smithsonian Archives.
View of research facilities on Barro Colorado Island. Credit: Steven Paton, STRI.
Also, thank you to all the scientists and students who have made Barro Colorado Island a stop on their journeys to better understand and conserve tropical forests around the world.
Barro Colorado became a field station at roughly the same time that Gorgas Memorial Laboratory was established to study tropical diseases and Summit Nature Park was established as a plant introduction station—all by U.S. scientists working in the canal area working with scientists and the government of Panama. 100 years later, all three of these institutions are still thriving.
To celebrate Barro Colorado's centennial, a bilingual exhibit—Barro Colorado, 100 Years of Discovery and Wonder—will be inaugurated at the U.S. National Museum of Natural History in Washington, D.C. on May 12; and an expanded version of the same exhibit will be inaugurated at Panama's Museo del Canal Interoceanico (MUCI), a Smithsonian Affiliate Museum, on May 30, 2023. The Estudio Nuboso Collective is organizing an artist in residence project to accompany the exhibit in Panama with public presentations by artists inspired by research on Barro Colorado. Present, and former BCI employees will celebrate on Barro Colorado and at the Tupper Center in Panama City at a party on June 9.
On Barro Colorado Island, we study the impact of lightning strikes on some of the tallest and oldest trees in the forest. Based on both ground and satellite data, it is estimated that more tan 100 million of these impacts each year radically alter forest ecosystems, and forest carbon storage, from the Tropic of Cancer to the Tropic of Capricorn. Credit: Jorge Alemán, STRI.
Digital cameras store a large number of images and can be housed in weather-resistant cases, making them an amazing tool for the study of animal behavior. Credit: Jorge Alemán, STRI.
Scientists from around the world who have worked on the island are preparing a three-volume set of books with essays about their studies of tropical plant and animal biology and the physical environment of this tropical forest. They also are organizing a science symposium and reunion in 2024. STRI's monthly public webinars and several travelling exhibits will focus on research themes from the island.
Barro Colorado Research Station is known internationally as a mecca for tropical biologists where:
researchers ask ever more complex questions based on extensive background information about this lowland tropical forest ecosystem,
it's easy to get to the island and to ship samples, as Panama is a hub for international air and sea transport,
the station provides transportation, safe drinking water, comfortable housing, and a cafeteria for researchers,
generations of young tropical biologists learn field biology techniques,
the unusually rich concentration of experts in many different fields and many different cultures on the island leads to innovation and collaboration, and
the Smithsonian Tropical Research Institute has grown to include 12 labs and research facilities so equipment like electron microscopes and gene sequencing machines are readily available.
For the past 100 years, lessons from Barro Colorado played a critical role in the preservation of tropical nature. Barro Colorado Island was formed when the Chagres River valley was flooded to create Gatun Lake, the main channel of the Panama Canal. By monitoring bird populations on the island, scientists realized that when a forest becomes an island (or a forest fragment), it begins to lose bird species, especially during climate extremes. Their work led conservationists to create important connections between protected areas so that wildlife can move from one forest to another in times of need.
The humid climate on Barro Colorado Island favors the reproduction of fungal species. Credit: Steven Paton, STRI.
Tropical forest research on Barro Colorado Island led to a series of forest study sites in 28 countries around the world (ForestGEO) and to techniques used today to understand how forests protect biodiversity and store carbon, pulling carbon dioxide out of the atmosphere that would otherwise contribute to global warming and climate change.
Work on Barro Colorado also led STRI to establish the Agua Salud experiment in the Panama Canal watershed—the largest tropical reforestation experiment of its kind—providing land use managers with information about how native tree species can be planted to improve water management and avoid flooding, store carbon, and conserve biodiversity to create a sustainable future.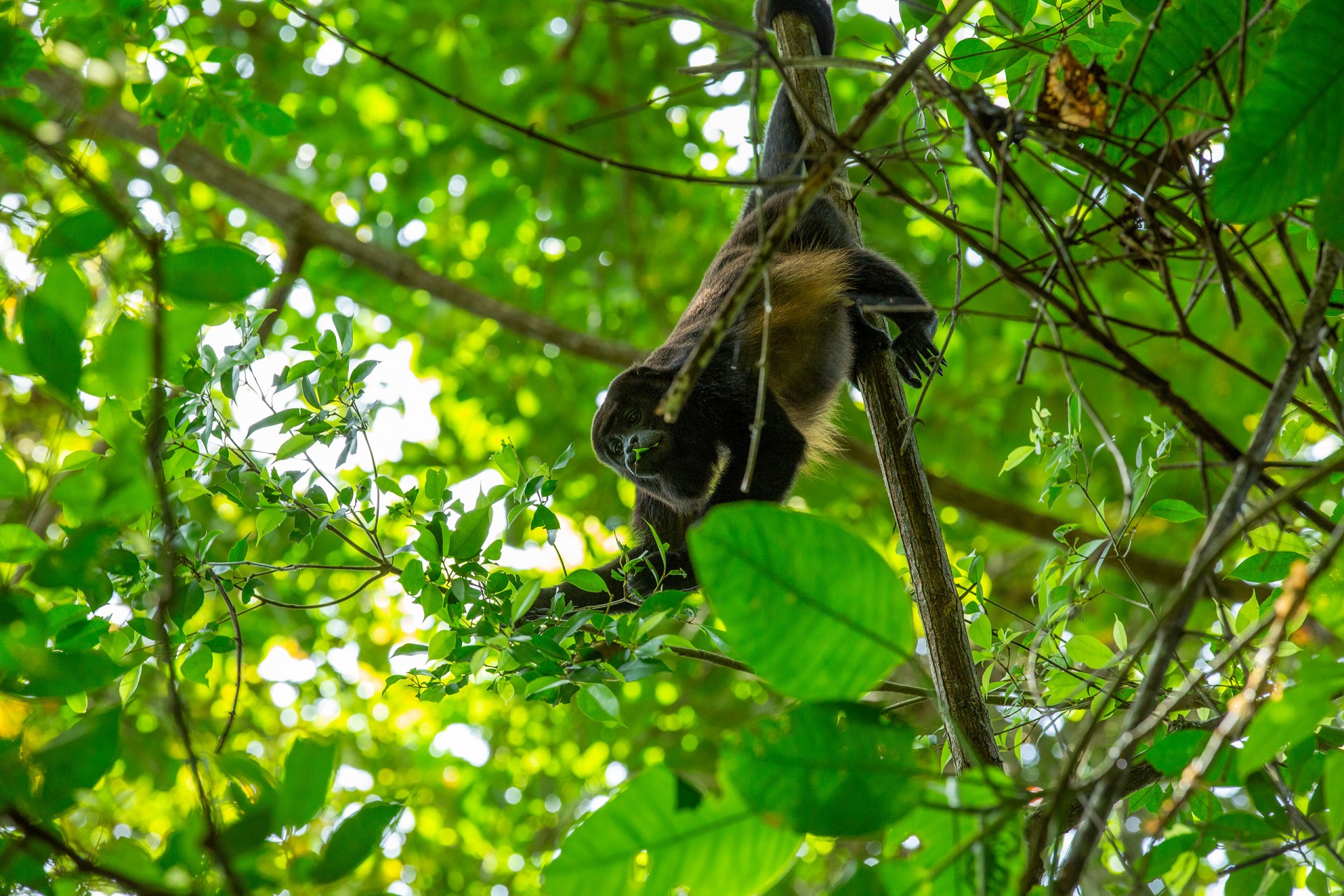 Howler monkeys, Alouatta palliata, are among the most common monkey species on Barro Colorado Island. Credit: Jorge Alemán, STRI.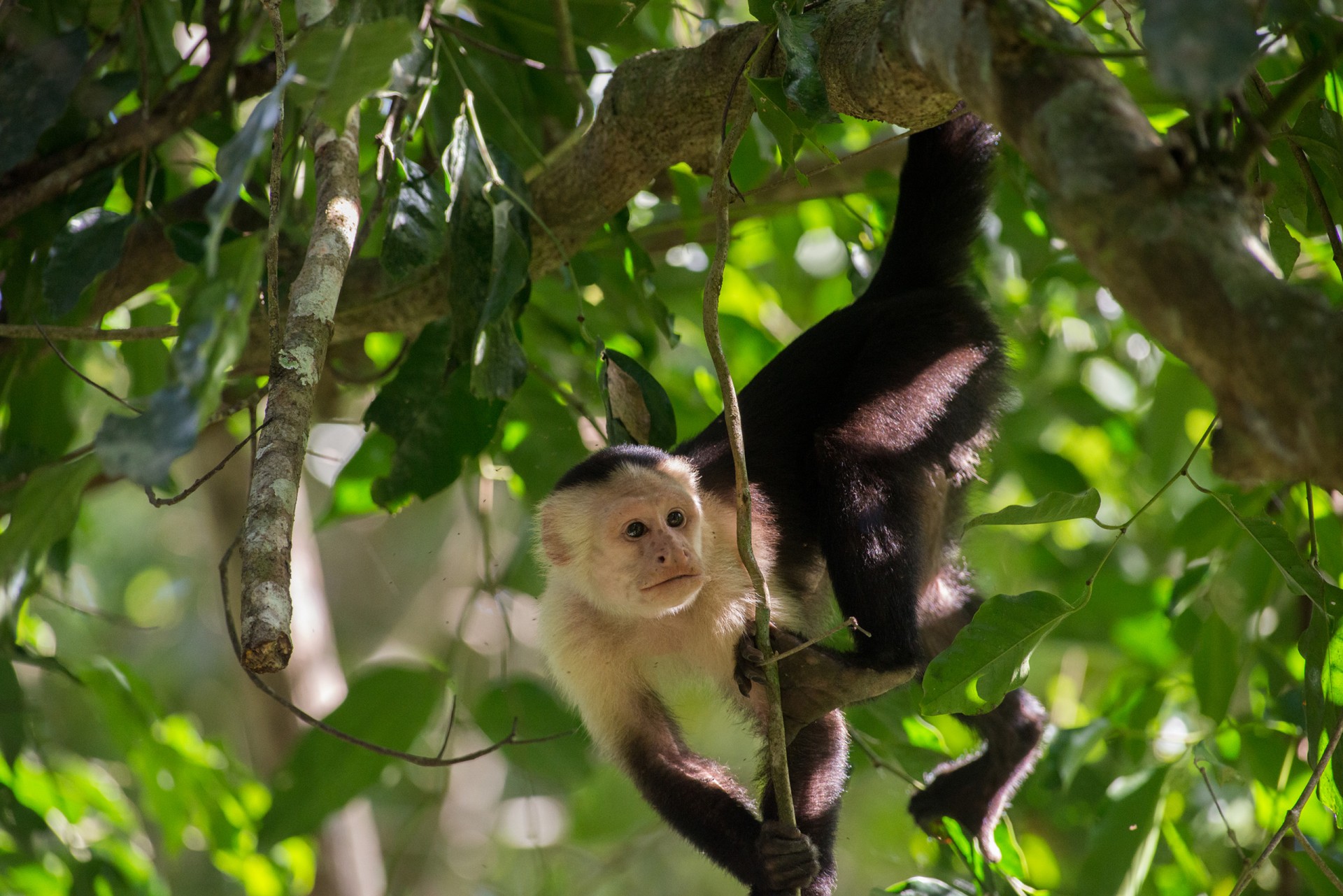 White-faced capuchin monkeys, Cebus capucinus, are another common primate on Barro Colorado that has been intensively studied. Sean Mattson.
As technology advanced, animal behavior research advanced: from following animal tracks on the ground, to developing camera traps to photograph animals to using satellites to monitor animal movement. Today, researchers use advanced technology to understand more about the evolution of tool use by monkeys and how army ants self-assemble into three dimensional structures.
Agoutis, Dasyprocta punctata, are common on Barro Colorado Island. These rodents, the size of a house cat, play an important role as seed dispersers. Credit: Steven Paton, STRI
Stay tuned for more information and events as part of Barro Colorado's 100th Birthday Party! To visit Barro Colorado Island, please see information about the visitors' program here. Because we care about conserving this 15km2 island for future generations, we limit visits to about 5000-day visitors per year, so please be patient.