Many in the STRI community will remember Joan Siedenburg, who died on June 9 at 92 years of age, as a wonderful friend of tropical research in Panama. Her yearly visits to STRI gave her a chance to participate directly in both the discovery process and in outreach to local communities.
Joan once told us: "I started out to be a scientist, but it didn't work out that way. Following World War II, many men preferred to have their wives stay at home rather than to seek employment. STRI made it possible for me to see what it's like to do this work first hand."
Joan traveled to Antarctica, the Galapagos, Iceland and Greenland, the Azores and even to Nine North, a region of hydrothermal vents on the East Pacific Rise.  She first came to Panama as part of a tour group. On a lecture stop at the Tupper Center, she connected with Stanley Heckadon and his passionate mission to help at-risk kids enjoy the beauty of Panama's Caribbean coastal environment at the Galeta Point Marine Laboratory.  As the years went on, Joan became more deeply engaged with STRI's work, and her circle of friendships grew.
Inspired by the need to share the unique history of the Smithsonian's role in Panama, she spent one of her extended visits to Barro Colorado Island producing a brochure for its 85th Anniversary, writing biographies of the island's well-known explorers and descriptions of research-in-progress.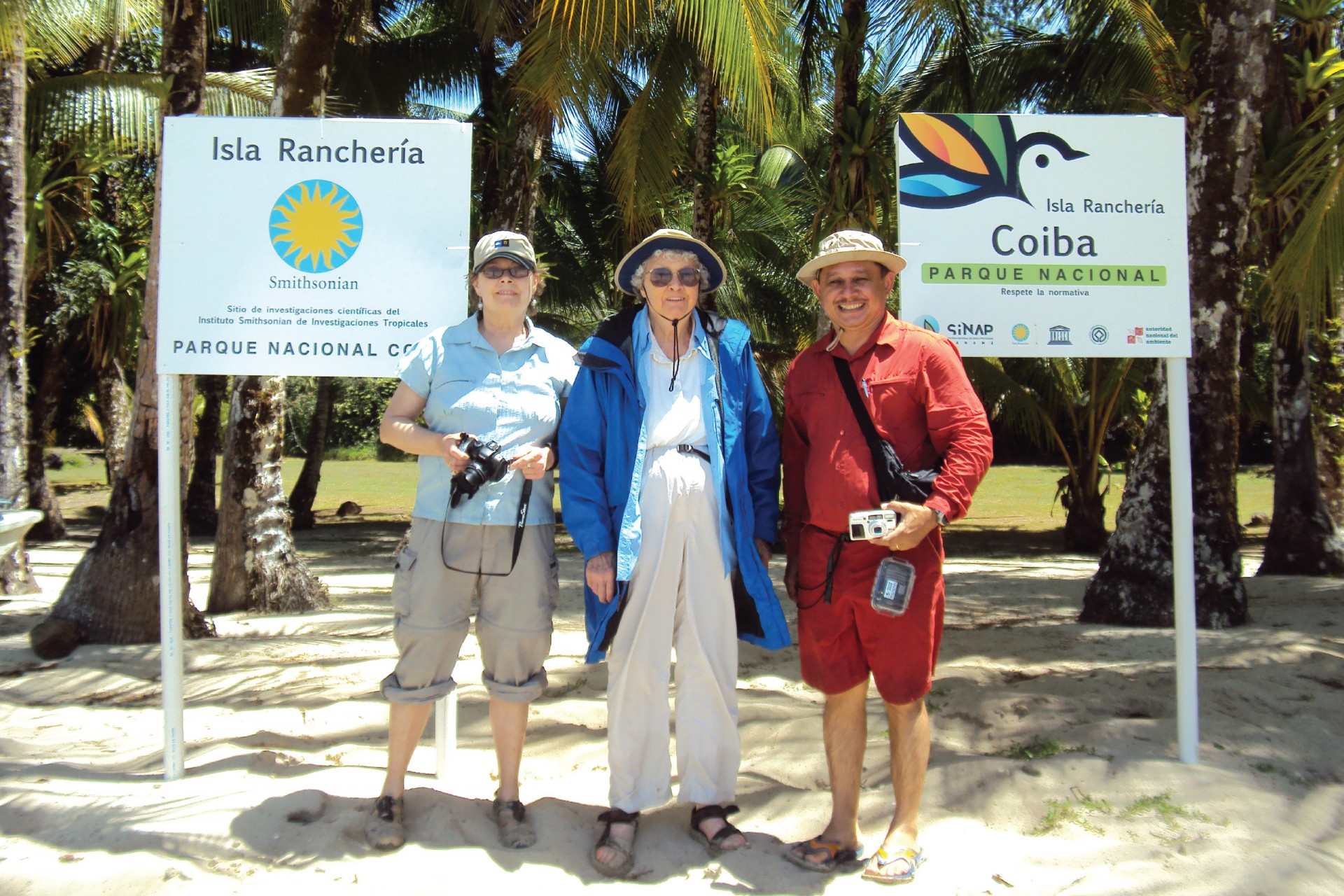 Joan Siedenburg (center), with her daughter, Karen Tool (Rt.) and STRI's Luis Carlos Lopez (left)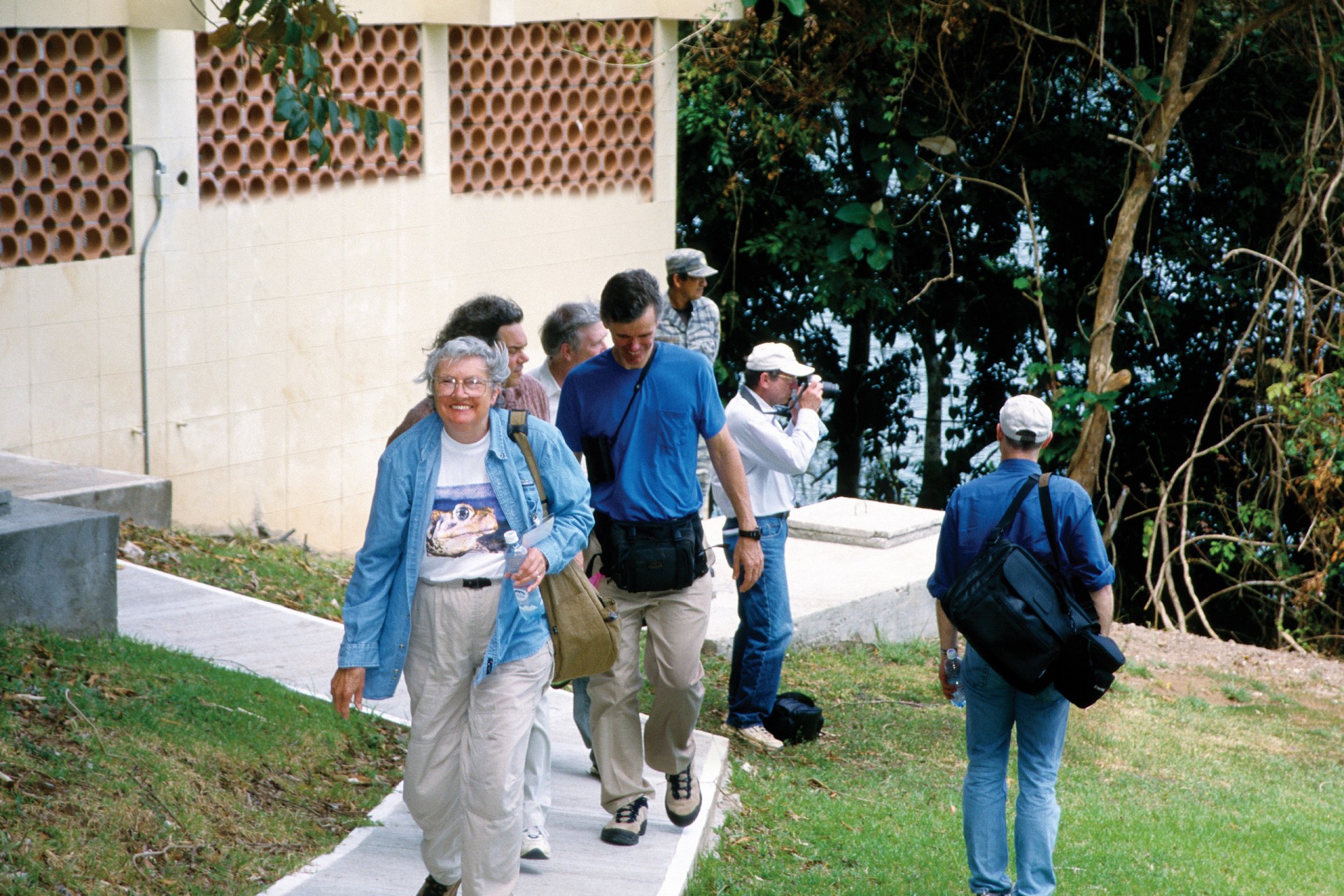 Joan heads up the hill on Barro Colorado Island.
Siedenburg accompanied by former STRI deputy director, Anthony Coates.
Eugorgia siedenburgae, new coral species named for Joan by STRI marine biologist, Héctor Guzmán and coral taxonomist, Odalisca Breedy.
Joan Siedenburg (white jacket) joins the STRI community to celebrate the contributions of former director, Ira Rubinoff, and the creation of the Big Bet initiative to support innovative research ventures.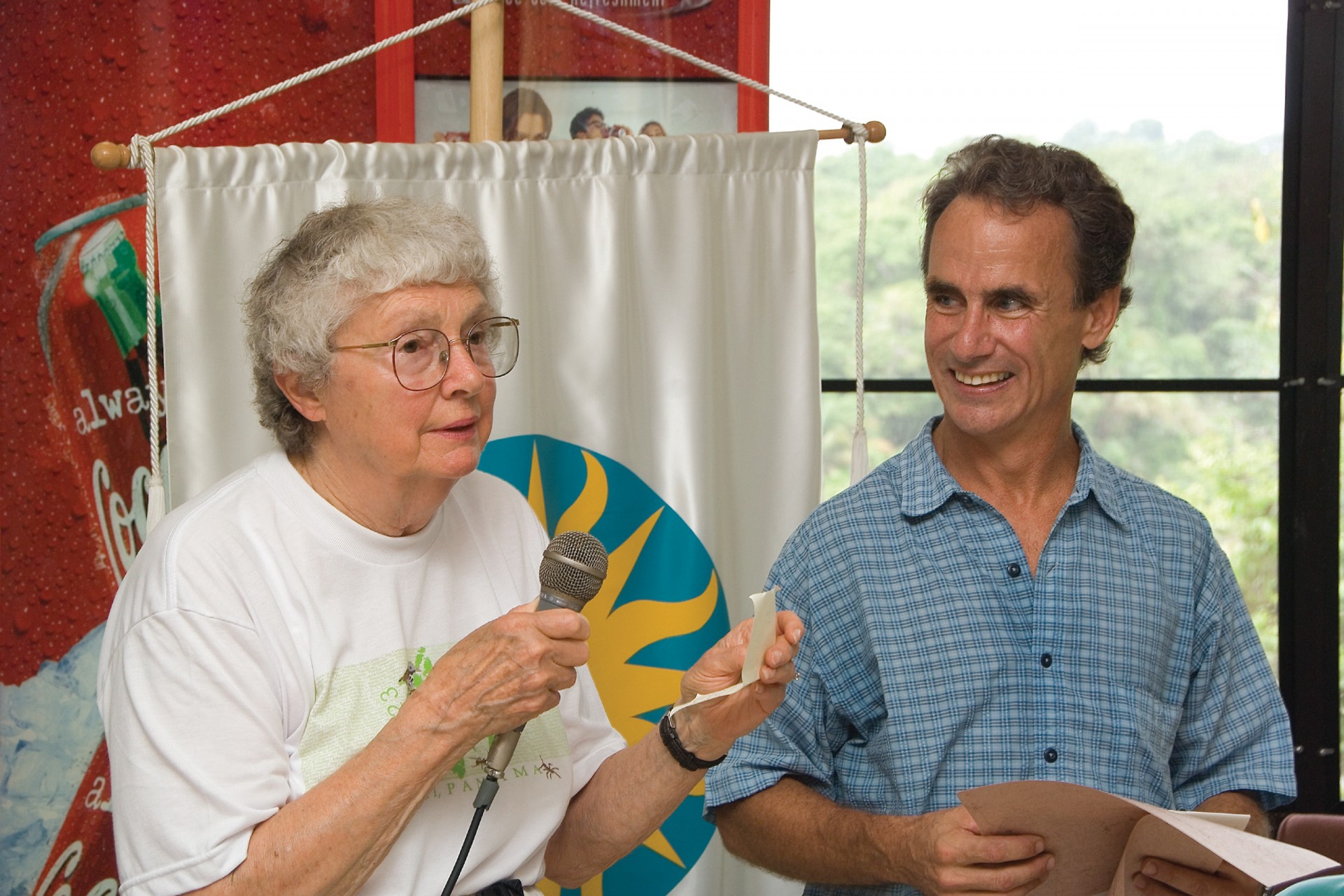 Joan Siedenburg celebrates the 85th Anniversary of the Barro Colorado Island research station with then STRI director, Eldredge Bermingham.
Joan joins STRI marine biologist, Héctor Guzmán in the DeepSee submersible to explore the Hannibal Bank Seamount in Panama's Coiba National Park. Credit: Karen Tool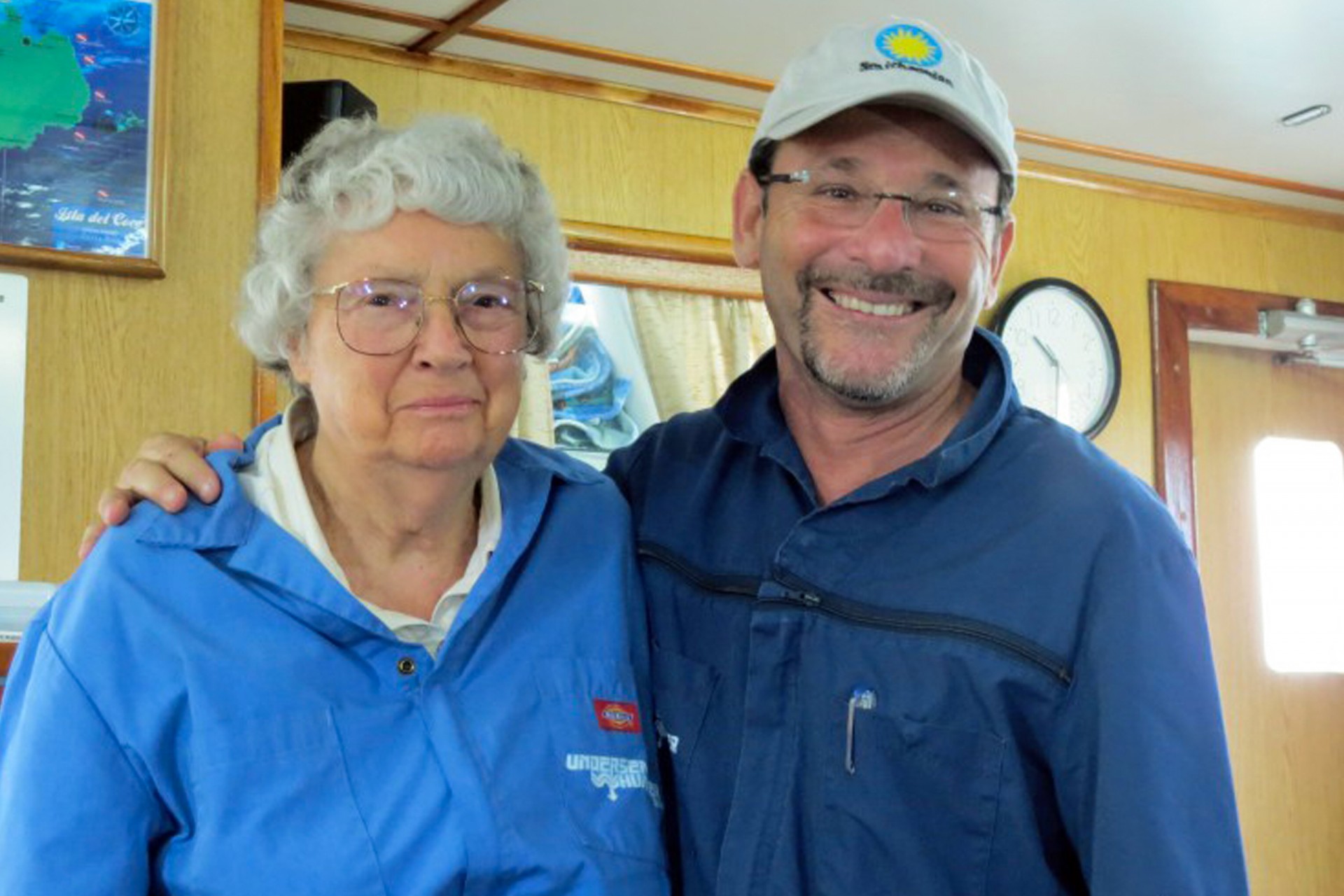 Joan Siedenburg with STRI marine biologist, Héctor Guzmán.
At the age of 86, she and her daughter Karen Tool accompanied STRI marine biologist Héctor Guzmán on an expedition to explore the Hannibal Bank Seamount in Coiba National Park in the submersible, DeepSee.  As a result, Guzman and his colleague Odalisca Breedy named a new coral species, Eugorgia siedenburgae, in her honor.
In addition to learning about and participating in research and outreach at STRI, she also spent time with our directors and their families and shared wonderful times such as Ira Rubinoff's Big Bet retirement party and sadder times, travelling from New York to Panama to attend the memorial for bat researcher, Elisabeth Kalko.
Joan was the best sort of supporter that any institution could wish for, genuinely interested in both our science and the people who make it happen.  Over her years of friendship, she made several gifts towards the establishment of a Joan S. Siedenburg Endowment to support STRI's work.  We will miss Joan and hope that her family continues to feel welcome to visit and celebrate her memory.