STRI special events,
July 2023
Jackson / Knowlton Award for Outstanding Contribution to Science by a STRI Fellow or Intern, OAS Ambassadors visit the BCI100 exhibit at the NMNH, International Mangrove Ecosystem Defense Day, New book by Fernando Santos-Granero, Book by Gregory Gilbert and Ingrid Parker, Documenting Reef-Fish Diversity in the Revillagigedo Archipelago, Pacific Mexico and more
Jackson / Knowlton Award for Outstanding Contribution to Science by a STRI Fellow or Intern
Congratulations to Kosmas Hench for this prestigious award!
He demonstrated that evolutionary radiations can unfold in open and highly diverse marine habitats, such as coral reefs, as rapidly as the fastest known radiations on land or in fresh water. Kosmas examined patterns of variation across the genomes of hamlets, a colorful and charismatic lineage of coral reef fishes that live on Caribbean reefs. He documents how hybridization and introgression can assemble new combinations of color pattern types that mate assortatively and coexist together.
You can read the paper here.
We would like to take this opportunity to express our immense gratitude to Jeremy and Nancy for their continued support and generous contribution.
OAS Ambassadors visit the BCI100 exhibit at the NMNH
On Monday 24th of July, the ambassador representative of Panama to the Organization of American States (OAS) María del Carmen Roquebert accompanied ambassador members of the OAS to the '100 years of Barro Colorado' exhibit by the Smithsonian Tropical Research Institute (STRI), which will be at the National Museum of Natural History (NMNH) in Washington DC, US until September. The ambassadors had the opportunity to learn about the history of this important research station and the science that has been done and continues to be done in it, with a guided tour by Dr. Oris Sanjur, Deputy Director of STRI, and Linette Dutari, Director of the Office of Communications and Public Programs at STRI.
Images courtesy of Vanessa Crooks.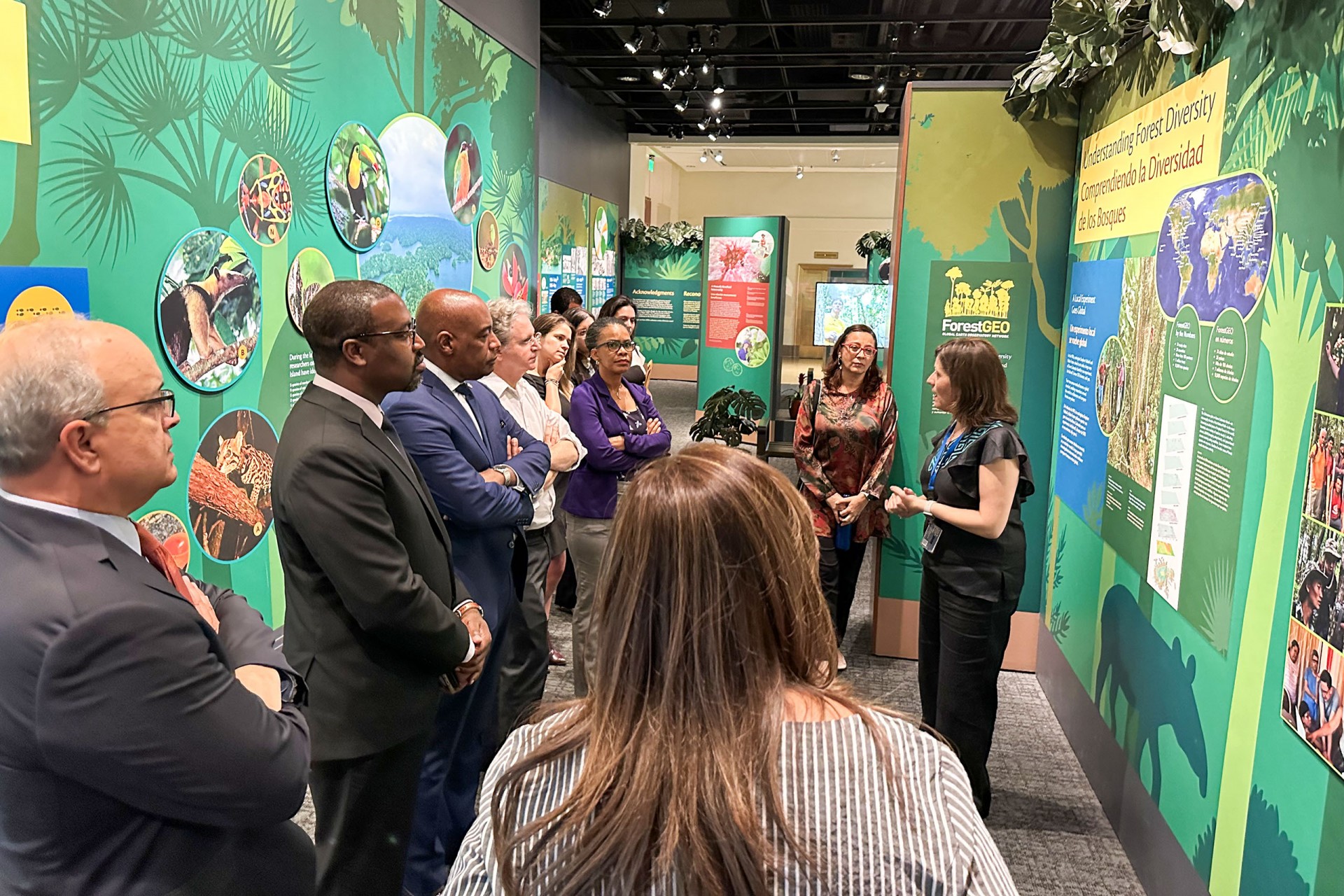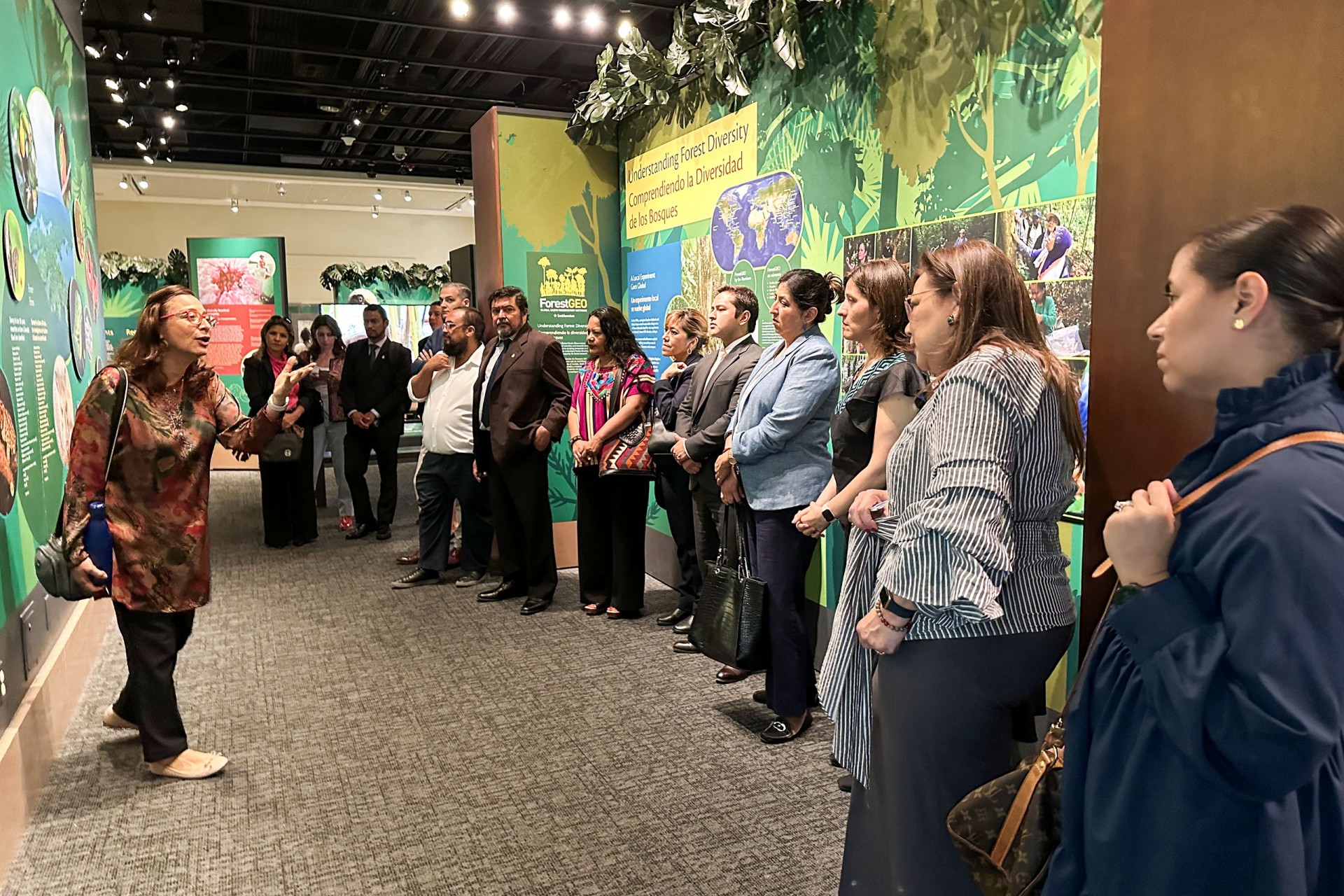 International Mangrove Ecosystem Defense Day
On July 26th STRI participated in the celebrations of the International Day for the Conservation of the Mangrove Ecosystem. Steve Paton presented a short talk on mangrove research and climate change and the Punta Culebra guides participated at the event providing information on STRI research in Panama.
Images courtesy of Steve Paton.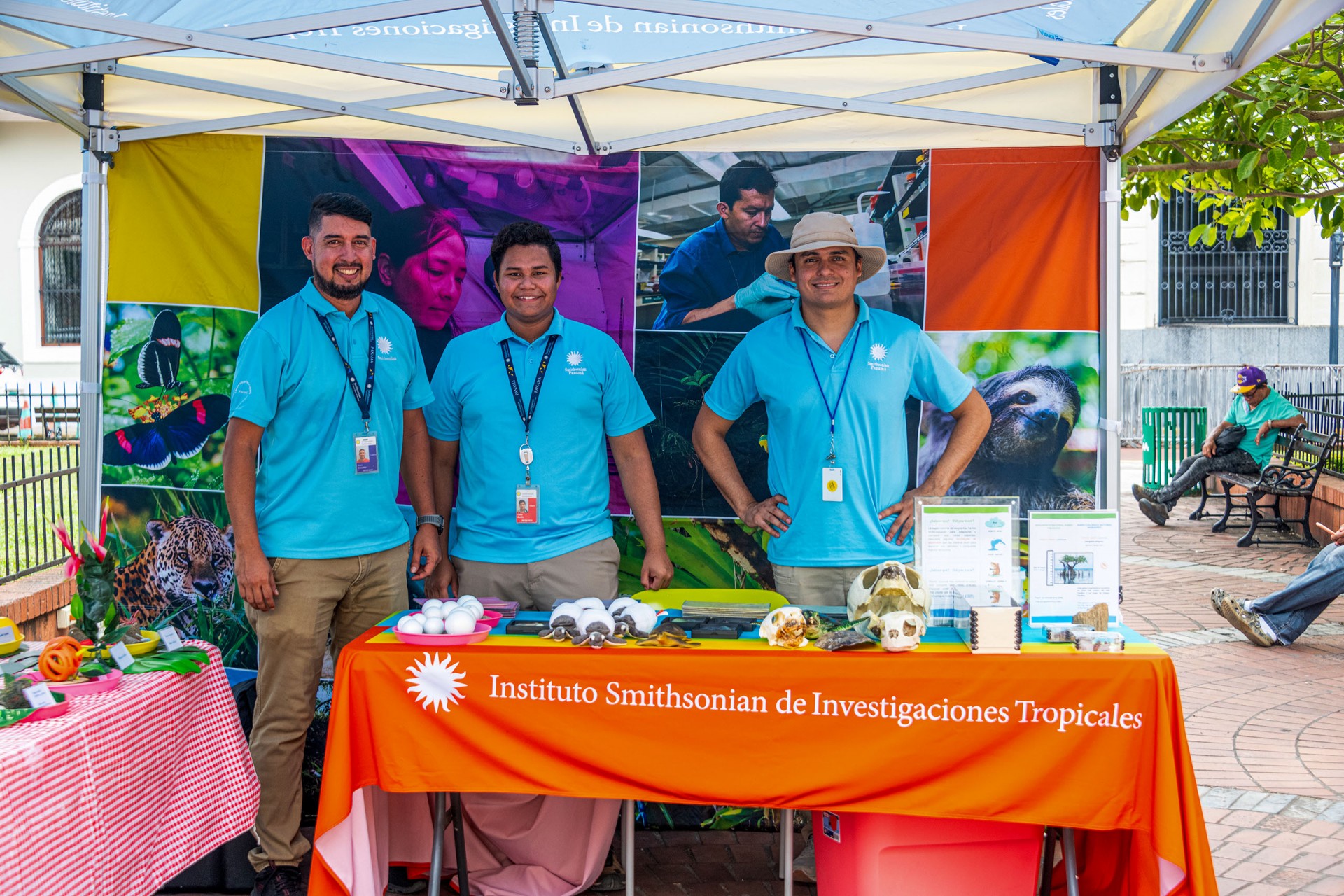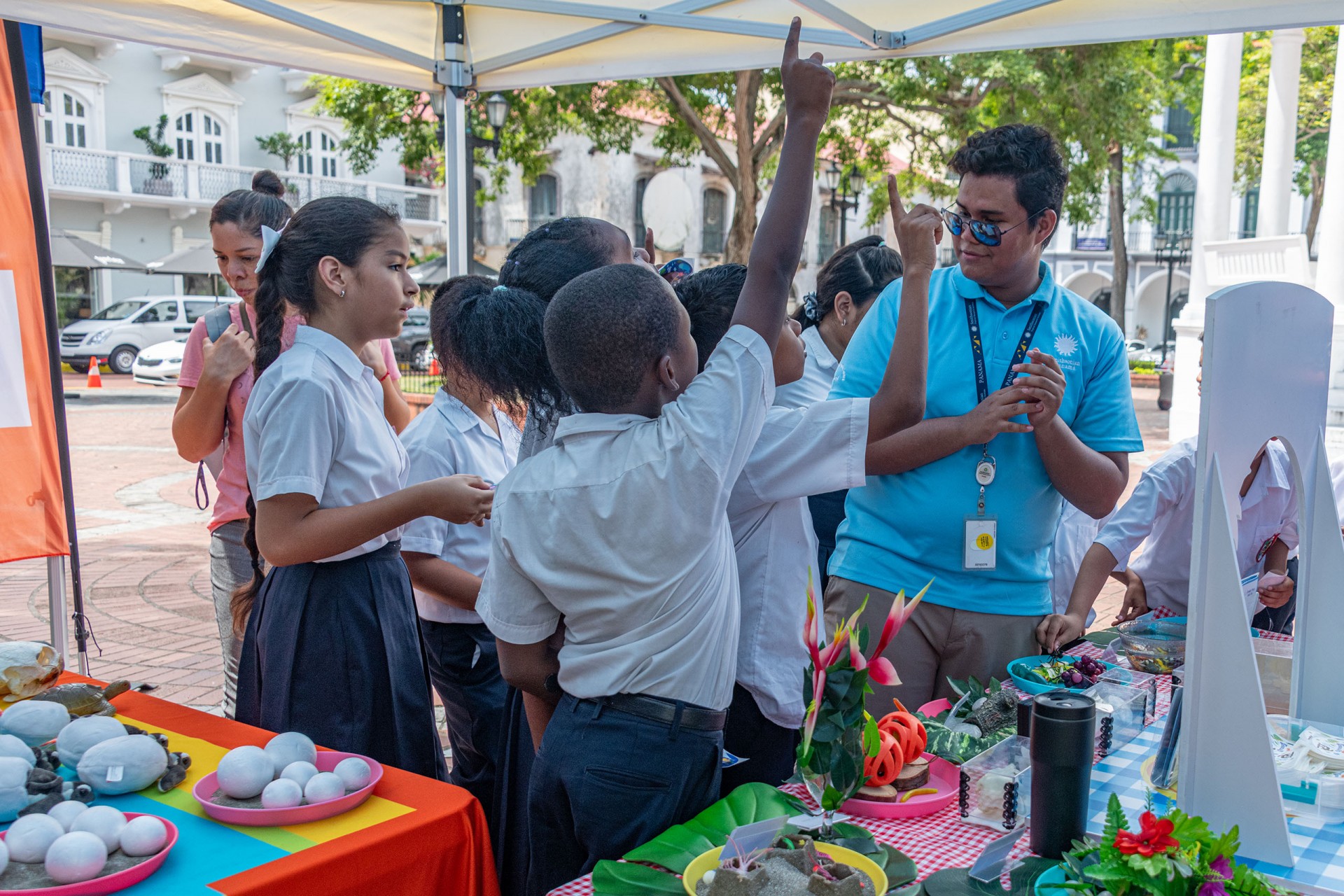 New book by Fernando Santos-Granero
Emeritus STRI scientist, Fernando Santos-Granero recently published the book Urban Imaginaries in Native Amazonia, Tales of Alterity, Power, and Defiance (coedited with Emanuele Fabiano). The book covers how urban life has long intrigued Indigenous Amazonians, who regard cities as the locus of both extraordinary power and danger. Modern and ancient cities alike have thus become models for the representation of extreme alterity under the guise of supernatural enchanted cities. This volume seeks to analyze how these ambiguous urban imaginaries —complex representations that function as cognitive tools and blueprints for social action— express a singular view of cosmopolitical relations, how they inform and shape forest-city interactions, and the history of how they came into existence.
Pronoun Workshop at STRI
Commemorating Pride Month, the Diversity Office invited STRI staff to participate in Pronoun Training workshops presented by Hombres Trans Panamá, professionals in the field. The training aimed to create a work environment that is inclusive and respectful of all individuals, regardless of gender identity or expression. Correct pronouns are crucial in addressing individuals respectfully and avoiding insensitive and offensive interactions. The Pronoun Training equipped staff with the necessary skills to understand and use pronouns correctly.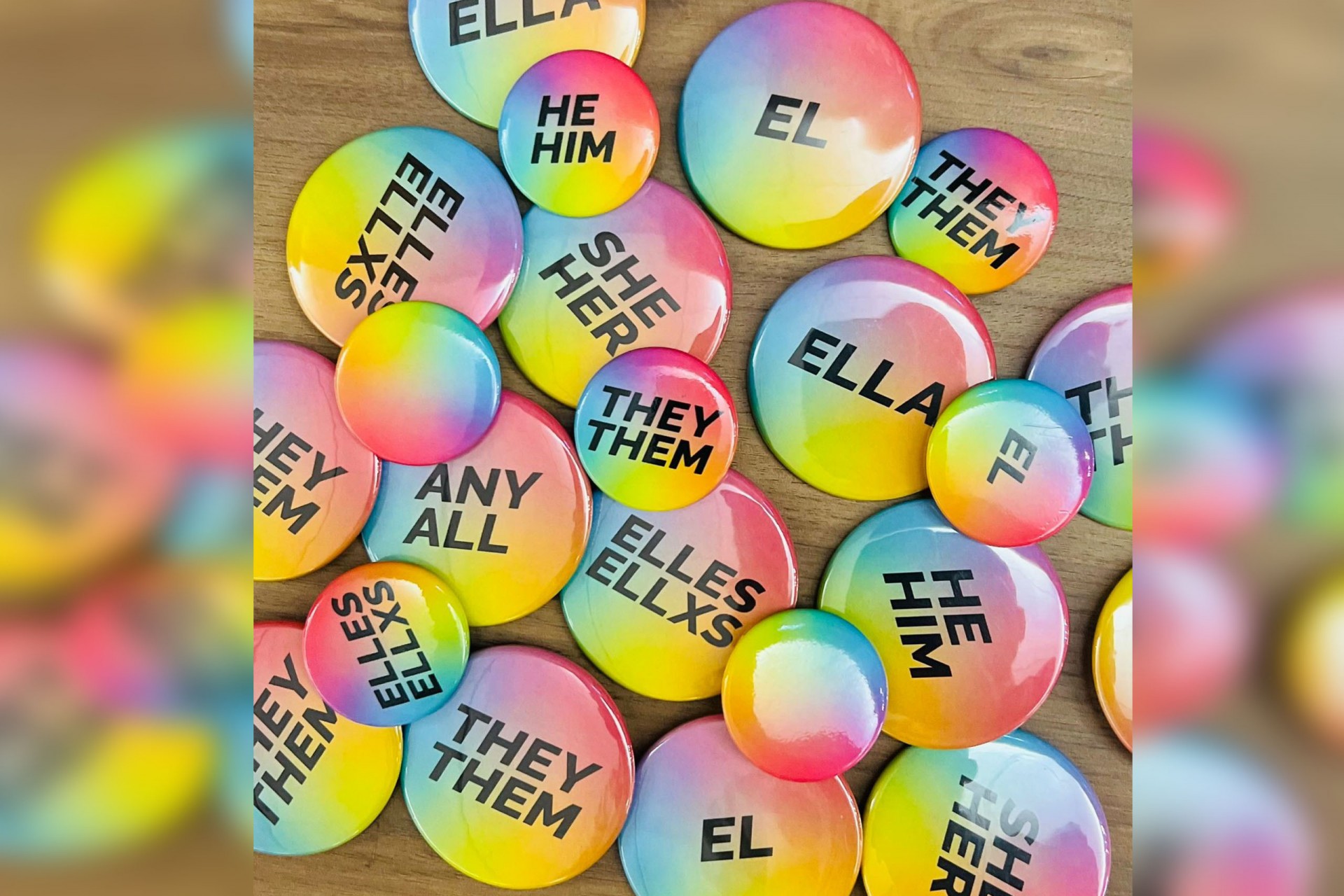 Book by Gregory Gilbert and Ingrid Parker
STRI Research Associates Gregory Gilbert and Ingrid Parker recently published the book The Evolutionary Ecology of Plant Disease. This publication introduces the key biological aspects of plant-pathogen interactions framed by ecological and evolutionary theory, provides a succinct and unified introduction to the organisms involved in plant disease interactions, incorporates examples from both agriculture and wild ecosystems, presents short primers on field and lab techniques and analytical approaches used in contemporary studies in plant pathology and evolutionary ecology, plus it is based on a proven, novel course structure.
Metropolitan Group Report
A few months ago, STRI worked together with the Metropolitan Group, a firm highly experienced in culture change, to conduct interviews with members of the community.  The team gathered valuable feedback and opinions from over 200 staff members in both English and Spanish.  The results of these interviews are captured in the 2023 STRI Situation Analysis and Final Recommendations report. The report consists of five main parts, including a situation analysis, levers for change, recommendations for systems and structure evolution, and more. The section titled Recommended Levers for Change lists important actions that can create immediate and significant changes in our organizational culture. Based on this, STRI started a series of conversations with the entire STRI staff to build a plan – together - to move forward, as a community, to a stronger, more inclusive, more effective institution.  All leadership will take part in these sessions.  This work will be essential as we develop a strategic plan that not only addresses what we do, but how we do it, and how we value each other in the work that we do.
Documenting Reef-Fish Diversity in the Revillagigedo Archipelago, Pacific Mexico
Between November 20 and December 2, 2022, a group of seven professional ichthyologists from Mexico, Panama, and the USA, together with 11 SCUBA-diving photographers experienced in taking diagnostic images of reef-fishes, conducted a scientific expedition aboard the diving-support vessel Quino El Guardian to the Revillagigedo Archipelago, a Mexican Marine Protected Area that lies 250 miles south-southwest of the tip of Baja California. The objectives of the expedition were to photograph all observed species of reef-fishes in their natural habitat at each of the archipelago's four islands to provide permanent documentation of such species occurrences; and to collect specimens for museums in Mexico and the United States at which they would be used for morphological and genetic assessments of endemism in the archipelagos' reef-fish fauna and the general relationships of that fauna to the reef-fish fauna of Mexico and other parts of the Tropical Eastern Pacific. Pictures cortesy by Allison Morgan Estape, Citizen Scientists.
MMM6 – 2023
Rachel Collin and Tania Romero participated in the Sixth Mangrove Macrobenthos and Management conference (MMM6) in Cartagena, Colombia. This event brings together stakeholders from different sectors of society and from many countries across the five continents in a single forum to present and discuss research advances and proposals for the conservation and management of mangrove forests, as well as to advocate for mangroves as Nature-based Solutions to climate change.